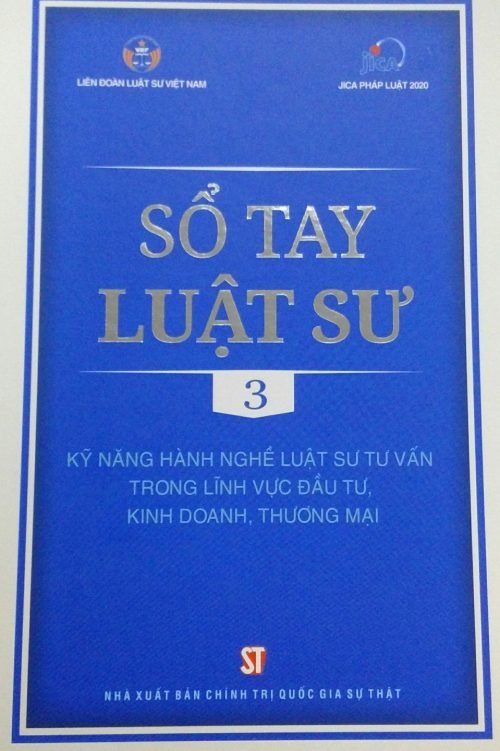 According to today's trends, the law as a profession plays an important role in bringing many benefits to the society. Unlike other professions, the legal profession is specific, requiring lawyers to equip themselves with the necessary legal knowledge and professional skills in the practice so that they can consult and propose effective solutions for clients in accordance with the applicable law.
We would like to introduce the "LAWYER HANDBOOK" co-edited by the Vietnam Bar Federation and Japan International Cooperation Agency (JICA) with the participation of experienced and prestigious lawyers in the profession, to be designed for those who are intending to become lawyers in the future. Accordingly, the Lawyer Handbook will provide you with professional knowledge as well as valuable experience gained from leading lawyers in their practice in various fields such as civil, commerce, criminal, etc.
The Lawyer Handbook is divided into 3 volumes, including: Volume 1 – Lawyer and lawyer practice; Volume 2 – Practicing skills for litigation lawyer in criminal, civil and administrative fields and Volume 3 – Practicing skills for consultant lawyer in investment, business and trade fields. Some lawyers of Phuoc & Partners were honoured to be invited by the Vietnam Bar Federation to draft two chapters in Volume 3, including:
Chapter 7 – Consultancy on labour law field by Lawyer Nguyen Huu Phuoc – Founding Partner of Phuoc & Associates. This Chapter shall provide you with legal issues that usually arise in the relationship between employer and employee, enhance labour law compliance for employers and how to manipulate appropriate skills of the lawyers in order to minimize potential risk of labour disputes.
This is a useful book for those who have a passion to become a lawyer. The "Lawyer Handbook" is expected to be published by the National Political Publisher in December 2017.
For more information, please contact the Judicial Academy of the Ministry of Justice located in Ho Chi Minh City and Hanoi.