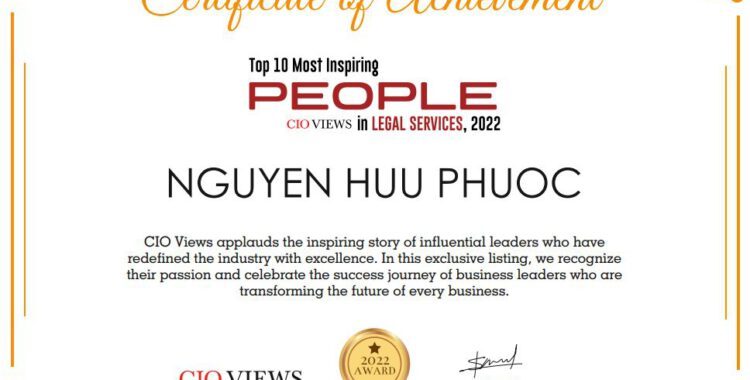 LAWYER NGUYEN HUU PHUOC – A PASSIONATE LEADER & ENTERPRENEUR IN VIETNAM 'S BOOMING LEGAL INDUSTRY [CIO VIEWS]
On the occasion of the 77th Anniversary of the Traditional Vietnamese Lawyer's Day, Phuoc & Partners is pleased to announce that our Managing Partner Nguyen Huu Phuoc has been recognised as one of the top 10 Most Inspiring People in Legal Services in 2022 voted by CIO VIEWS. CIO VIEWS is known as a business magazine that specializes in writing about influential figures, their success stories, and their views on current economic prospects.
In the just-announced top 10 Most Inspiring People in Legal Services in 2022, Mr. Phuoc was named as A Passionate Leader & Entrepreneur in Vietnam's Booming Legal Industry.
Sharing about his journey to success in his career as a lawyer and business leader in the legal field, Lawyer Phuoc said "There is no overnight success. With me, our client success is our success, which is made through resilience and learning to improve from our mistakes. Unless you are blessed with luck and have innate talents, successes do not come by easily". He further states that the success Phuoc & Partners achieved today is all thanks to the people who are a part of the Phuoc & Partners' team, from his Partners, Associates, Paralegals, and even young interns of the Firm. To Mr. Phuoc, success is not about monetary value, it is about being able to work with his team in providing professional legal services that make huge impacts in not only Vietnamese but also worldwide.
Phuoc & Partners team is always proud to be colleagues and partners with such an inspirational leader. Lawyer Nguyen Huu Phuoc's discipline, decisive personality and leadership have made us more efficient and transformed all of our skills into strengths.
You can see the entire list
AT HERE
.