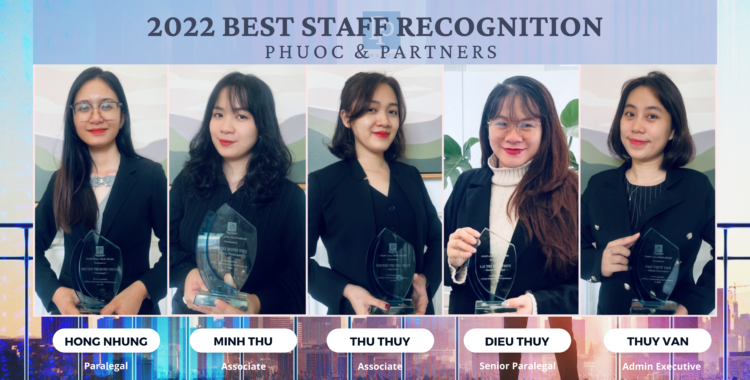 Phuoc & Partners_2022 BEST STAFF RECOGNITION AND PROMOTION
In 2022, we are delighted to announce that our staff has been selected as the Best Staff of the Year and promoted to new positions in appreciation of their unwavering dedication and trust of the whole team in the work.
📈 Managing Partner, Mr. Nguyen Huu Phuoc, commented: "Thu Thuy, Minh Thu, Dieu Thuy, Hong Nhung, and Thuy Van have made unremitting contributions to the Firm and client projects in their areas of practice and experience over the years, as well as support and develop the team to accomplish common goals. Besides, Thu Nhi has proven the ability of a lawyer with her hard work, dedication and great experience in the litigation field, Quang Tuan has brought value to our company by his hard work, enthusiasm and commitment as an intern. Training and developing the next generation of Phuoc & Partners' future lawyers is one of our firm's top priorities. Even though appreciation words are not enough for praising you for your great work. We would still like to convey my best wishes and assure you of my support every time you need it."
Nguyen Thi Thu Thuy – Associate (Ho Chi Minh City)
Thu Thuy was praised by clients and colleagues as a "dedicated staff with detailed-oriented and hard-working". Her high compassion and empathy with clients somehow trigger the accomplishment of her assignments. She is proud of her English proficiency, time management, problem-solving, and negotiation skills.
Le Thi Minh Thu – promoted to Associate (Ho Chi Minh City)
Minh Thu is an enthusiastic staff who always contributes her best to complete her duties. Apart from having solid professional knowledge and skills when working and serving clients, Minh Thu is showing her capacity in communication and leadership skills. Besides, having outstanding English proficiency makes Minh Thu stand out from the crow when she can support her colleagues to handle many jobs with foreign involvement. In the coming time, we may see Minh Thu thrive in another aspect being the speaker at the conference and more
Nguyen Thi Hong Nhung – Paralegal (Ho Chi Minh City)
Hong Nhung is appreciated for her great attitude in getting things done. In a challenging year marked by long hours, she rose to the challenge, always putting in her best efforts in all her projects to deliver excellent results for her clients.
Lai Thi Dieu Thuy (Ha Noi)
Dieu Thuy concentrates her practice on labour and employment and commercial law. She advised domestic and international companies on a wide spectrum of labour relations matters, including labour law compliance, labour contract, salary and benefits, labour discipline and workplace safety.
Van Thu Van – Admin Executive (Ho Chi Minh City) 
During her working period, Thuy Van has obtained several practical skills such as Communication, Consultancy, Work & time management, and Professional knowledge on Accounting and Tax Declaration at the University of Economics. She is dedicated to her work and actively supports administrative tasks.
Nguyen Thu Nhi – promoted to Associate (Ho Chi Minh City)
Nhi's particular focus is also negotiation and litigation in relation to labour and employment, commercial contracts, divorce involving foreign elements, trademarks and other intellectual property rights. Thuy always serves her clients by providing an early assessment of the possibility of the case so that clients can steer the case to their advantage.
Bui Quang Tuan – promoted to Paralegal
Quang Tuan has brought value to our company through his hard work, enthusiasm, and commitment as an intern. He has never been complacent in his role and has always strived to learn more, experiment more, and do more.
We thank you all for your commendable work ethic, dedication, and commitment to your role as great members of the team. We can't wait to see what you all accomplish in the new year with the new client and business development projects.
Please join us in congratulating Thu Thuy, Minh Thu, Hong Nhung, Thuy Van, Dieu Thuy, Thu Nhi, and Quang Tuan